Just for the record, sushi does not mean raw fish. Sushi specifically refers to dishes made with vinegared rice, which traditionally includes fish (often raw) and/or vegetables, wrapped in seaweed. So the basic ingredients in sushi make it sound healthy and "calorically light," but that just isn't the case when you take American eating habits into account.
The good news is that most Japanese restaurants don't serve very large portions. The bad news is that we are a nation of "supersizers," so we compensate for small portions by over-ordering — I don't know about you, but a single spider roll just doesn't cut it for me. Add to that a Philadelphia roll, and part of my friend's eel and avocado roll (just to taste), not to mention the vegetable tempura appetizer, a few dumplings, the miso soup, 2 or 3 glasses of sake, and, of course, fried ice cream. Now I'm on my way to getting into shape — the shape of a sumo wrestler, that is.
To make matters even worse, the trend in sushi is moving away from the traditional rolls and dishes, which are usually healthier options. Chefs at sushi restaurants are creating more "interesting" choices these days to satisfy consumer curiosity and demand for innovative culinary treats. This generally means adding more of the "good-tasting, but bad for you" ingredients, and sometimes omitting the healthful ones.
"These less traditional rolls contain some amazing flavors and new ideas, although that doesn't necessarily mean fish or other standard ingredients are involved. Some of our most popular rolls contain ingredients such as smoked duck, braised short rib, and even fried onion and mozzarella cheese," says Takanori Wada, Executive Sushi Chef at Sushi Samba, an upscale chain of sushi restaurants.
A smoked duck sushi roll could contain as much as 350 calories and 12 grams of fat. One roll might not seem so bad, but that wouldn't satisfy most sophisticated "foodies." (Leave it to us to take a relatively healthy cuisine and turn it into a delicious high-calorie and high-fat food!)
How can you keep sushi healthy?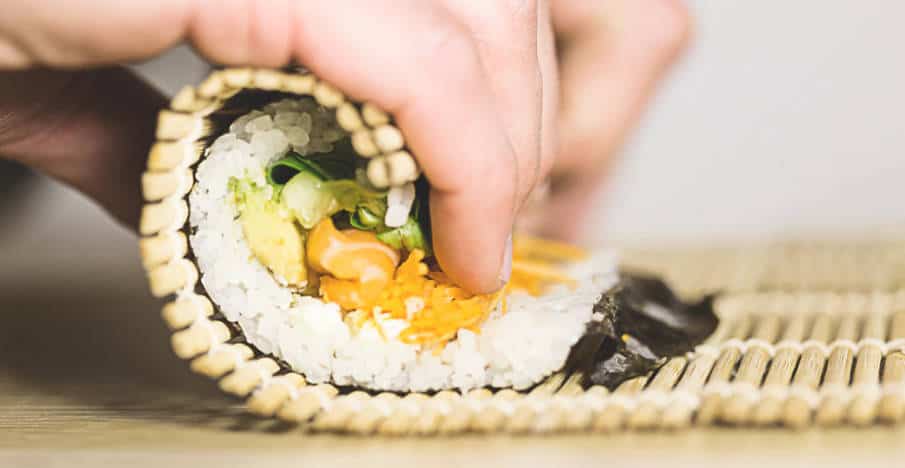 Watch What You Eat, Literally
Steer clear of fried or battered foods, including dumplings, anything tempura, and spider rolls. The menu offers a wide variety of options, so there is no sense in taking fish and making it "heart-unhealthy." When ordering at a Japanese restaurant, the key is to look for anything broiled, grilled, or steamed. Typically, soup and sashimi (raw fish without the rice) are low in calories, too.
Avoid "Nouveau" Sushi
Be especially careful when it comes to rolls with duck, cheese or other high fat ingredients. Also, stay away from eel, whose rich taste can't hide the fact that it's high in calories and fat.
Keep Sodium Down:
I have a friend who gets a "sodium hangover" every time she eats at a sushi restaurant. Use less soy sauce or request low sodium soy sauce. Also, note that miso is quite high in sodium.
Limit the Extras
Mayonnaise, cream cheese, and even that traditional Japanese dressing on the little green salad can add significant calories to what you're eating.
Avoid the Feeding Frenzy
Yes, there are so many good choices when it comes to sushi, but try to stick to just 1 or 2 of the lower calorie rolls. Order steamed veggies, hijiki (cooked seaweed) or oshitashi (boiled spinach with soy sauce) to help fill you up.
Keep Your Food Safe
Sushi, and any raw fish or shellfish for that matter, can be hazardous to your health — and not just from a nutritional point of view. Raw fish and other seafood can contain parasites, parasite eggs and other microorganisms that cause diseases (including hepatitis). But that's only part of the problem.
Fish can also accumulate mercury, which at toxic levels can negatively affect the nervous system. Large deep-sea species of fish, such as tuna, swordfish, king mackerel, tilefish, and shark, are particularly susceptible to mercury contamination. In fact, the Food and Drug Administration (FDA) cautions pregnant and nursing women, women of childbearing age, and small children to avoid these types of fish. Check the FDA's site for regular updates: http://www.cfsan.fda.gov/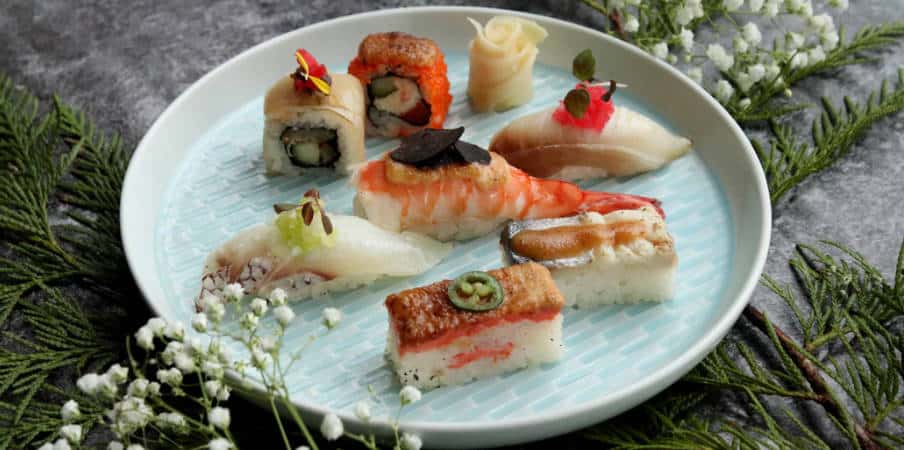 For The Record:
Avocado roll: 246 calories, 11g fat, 33g carbs
Spicy tuna roll: 290 calories, 11g fat, 26g carbs
Shrimp tempura roll: 544 calories, 13g fat, 75g carbs
Philadelphia roll (salmon, cream cheese, avocado): 319 calories, 5g fat, 30g carbs
Spider roll (fried soft shell crab): 317 calories, 12g fat, 38g carbs
California roll: 266 calories, 8.5g fat, 36g carbs
Cucumber roll: 136 calories, 0g fat, 30g carbs
Eel and avocado roll: 372 calories, 17.5g fat, 31g carbs
Tuna nigiri (2 pieces over rice): 240 calories, 1g fat, 27g carbs
Salmon sashimi (2 pieces, no rice): 164 calories, 6g fat, 0g carbs
Beef teriyaki with sauce (2 cups): 870 calories, 37g fat, 22g carbs
Vegetable tempura appetizer: 255 calories, 15g fat, 22.5g carbs
Steamed pork dumpling appetizer (6): 174 calories, 6.5g fat, 21g carbs
Miso soup (1 cup): 85 calories, 3g fat, 11g carbs
Green salad (with 3 Tbsp of sesame dressing): 260 calories, 24g fat, 3.5g carbs
Edamame, shelled (4 oz): 160 calories, 7g fat, 12g carbs
Fried ice cream (1 cup): 358 calories, 18g fat, 46g carbs
For Your Reference:
Rice (1/2 cup): 121 calories, 0g fat, 26g carbs
Avocado (2 slices): 77 calories, 7.5g fat, 3g carbs
Tuna (2 oz): 60 calories, 0g fat 0g carbs
Salmon (2 oz): 82 calories, 3g fat, 0g carbs
Seaweed (1 slice): 10 calories, 0g fat, 1g carbs
Mayonnaise (1 Tbsp for spicy sauce): 99 calories, 11g fat, 0g carbs
Jumbo shrimp, battered and fried (1): 74 calories, 4g fat, 4g carbs
Cream cheese (1 Tbsp): 51 calories, 5g fat, 0g carbs
Soft shell crab, fried (2 oz.): 186 calories, 12g fat, 10g carbs
Crab, imitation (2 oz): 58 calories, 1g fat, 6g carbs
Smoked eel (2 oz): 164 calories, 10g fat, 0g carbs
Last Updated on September 28, 2021