Miley's Diet
Miley Cyrus has been in the spotlight since she was a child. She initially gained popularity as the star of the Disney Channel's hit show, Hannah Montanta, when she was only fourteen years old. Since then she has become one of the most successful and recognizable pop artists today.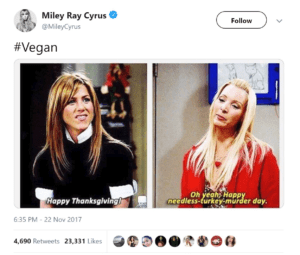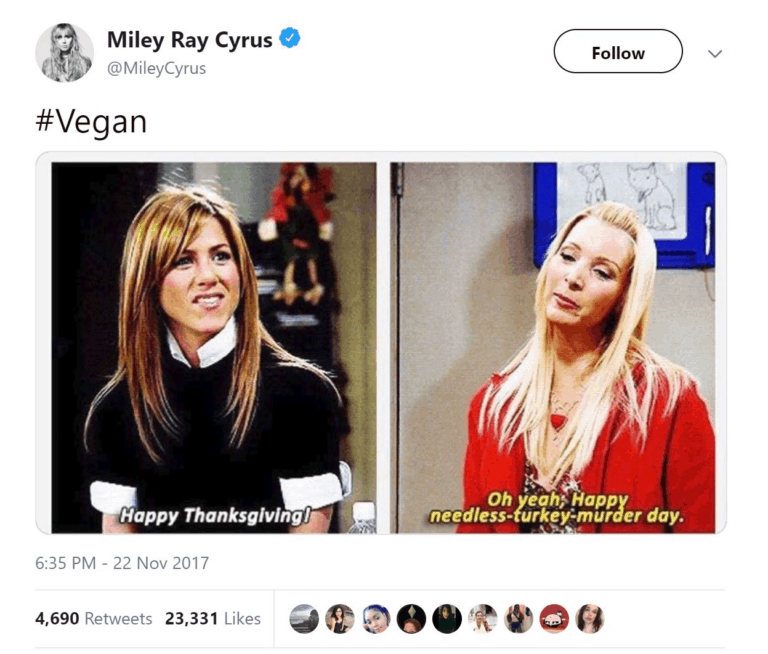 But Miley is also passionate about social issues. In 2014 she launched The Happy Hippie Foundation, a nonprofit organization that advocates for homeless youth, LGBTQ youth and other vulnerable populations. She is also a vocal supporter of animal rights. Miley follows a vegan diet for both ethical and health reasons, and she promotes her lifestyle on her social media platforms and during media appearances. 
Weight Guestimate: 106 pounds 
Height Guestimate: 5"5
BMI: 18.2 (Underweight)
Favorite Health Food: Avocados 
Favorite Junk Food: Vegan chocolate ice cream
Personal Trainer: Mari Winsor (former trainer)
Diet Secret: Vegan Diet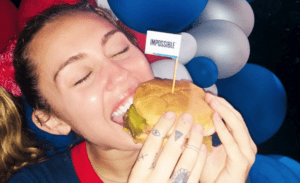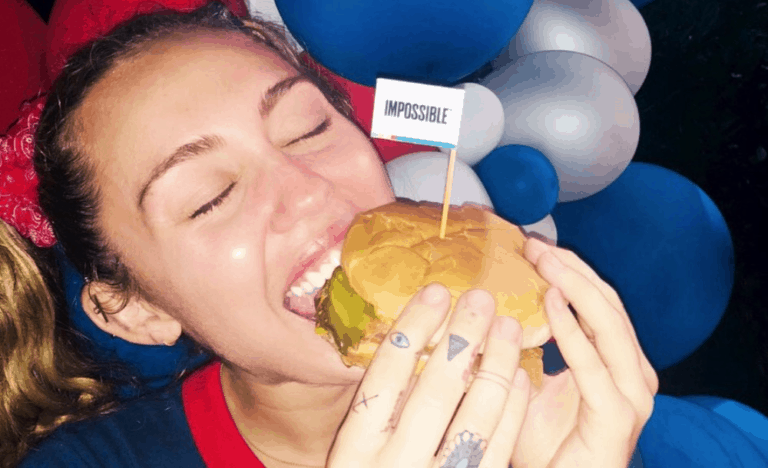 According to LiveKindly, Miley decided to stop consuming animal products in 2014, when her dog, Floyd, was killed by a coyote. She is an active animal rights activist, and was even honored with the Celebrity Advocate Award by the Animal Rights National Conference, the world's largest and longest-running animal rights gathering, which has been meeting since 1981. 
The vegan diet excludes all animal products, like meat, poultry, fish, dairy, and even honey. The Vegan Society has defined veganism as "a way of living which seeks to exclude, as far as is possible and practicable, all forms of exploitation of, and cruelty to, animals for food, clothing or any other purpose." Miley certainly extends her veganism into other aspects of her life besides her diet, having expressed her support for vegan clothing in the past.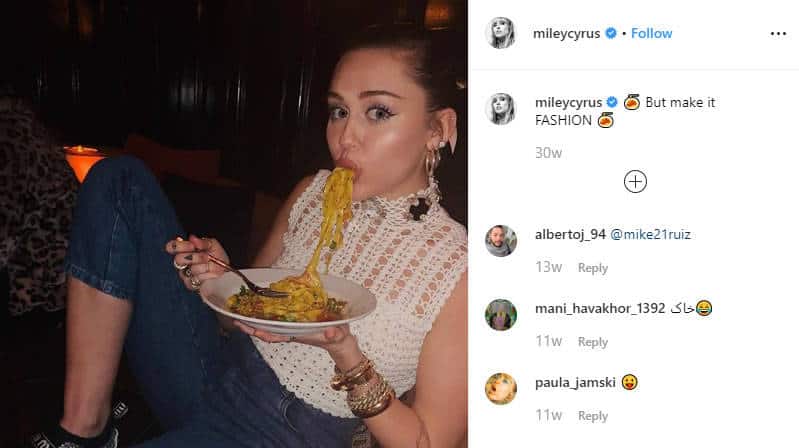 On a vegan diet, you can eat: 
Vegetables

, all types, including

starchy ones

such as potatoes, rice, and corn 

Fruits, all types

Grains, all types 

Protein-rich plant-based

options such as beans, lentils, chickpeas, and tofu 

Nuts and seeds, particularly those that are high in omega-3 fatty acids,

such as walnuts

Fortified plant-based milk,

such as

soy, almond, and cashew milk 
How She Actually Eats
Miley has shared photos of her vegan meals and snacks on her Instagram. From the photos, we can see that she loves eating clean and cruelty-free meals, including green smoothies, pita wraps (stuffed with veggies, lentils, and avocados, of course), vegetable stir-fries, and avocado sushi rolls.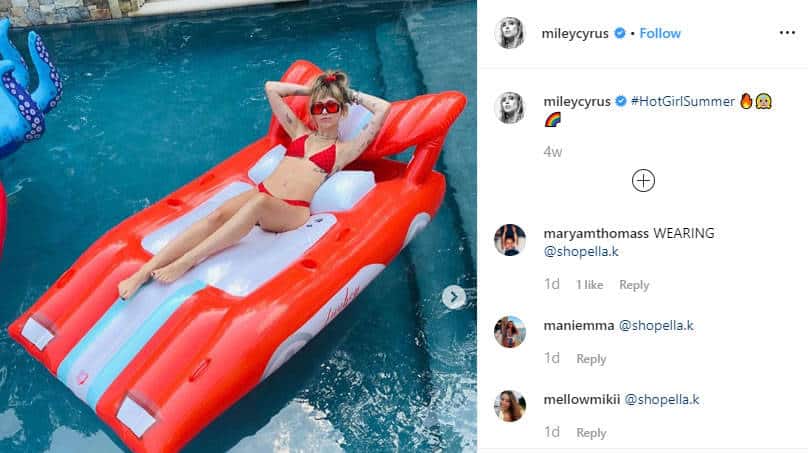 While she has stated that she went vegan for health as well as ethical reasons, Miley is not afraid to indulge on occasion. At her wedding in 2018, the reception was filled with vegan fare such as vegan truffle mac and cheese, vegan fried chicken, and vegan dumplings. For dessert, guests were treated to vegan banana pudding and vegan vanilla cupcakes. And of course, the vanilla wedding cake was cruelty-free as well. She has also been spotted buying vegan and gluten-free snacks.
No matter what she's eating, it's clear that Miley prioritizes her food being free from animal products above all else. 
Sample Menu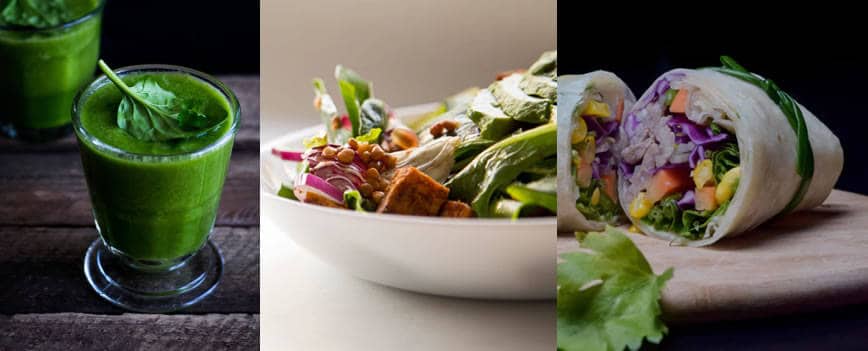 Try eating vegan like Miley for one day using this menu, which was inspired by her Instagram posts:
Breakfast: Healthy Green Smoothie
Lunch: Veggie Tofu Stir-Fry
Dinner: The Ultimate Vegan Protein Burrito 
Fitness
According to INSIDER, Miley is an avid practitioner of Ashtanga yoga, an especially challenging style of yoga that emphasizes core strength and proper breathing. She has also been practicing pilates since 2013 and at one point even installed a pilates studio in her home. Miley's former fitness instructor, Mari Winsor, has reported to Harper's Bazaar that Cyrus would work out for at least half an hour a day.
What We Can Learn 
While you don't have to be a vegan like Miley, it's easier to stick to a diet if some aspect of it is personally meaningful to you. Using her love for animals as motivation, Miley has maintained her vegan diet for five years and has even converted her husband, Liam Hemsworth, to the cause! 
A few journalists have attempted Miley's diet and exercise regime, with varying results. Lauren Schumacker from INSIDER attempted to eat and train like her for a week and found herself feeling deprived by the end of the challenge (but she did love practicing yoga and pilates). Another journalist from PopSugar attempted the same challenge and claimed that she "felt clearer, open, and more receptive to my body's cues, wants, and needs by the end of the week."
According to a report done by the Centers for Disease Control and Prevention, most Americans don't eat enough fruits and vegetables, so it's not a bad idea to incorporate more plant-based foods into your diet. As for fitness, take advantage of the numerous free resources online to reap the benefits of pilates and yoga practice. 
From Around the Web 
Last Updated on September 28, 2021