It seems like at least once a month a new journal article touts the benefits of #breakfast. But just because it's important to eat breakfast doesn't mean you can indulge in a free-for-all at the buffet table. Here are a few tips to start your day with healthier #choices.
OATMEAL vs. GRANOLA vs. FARINA (CREAM OF WHEAT)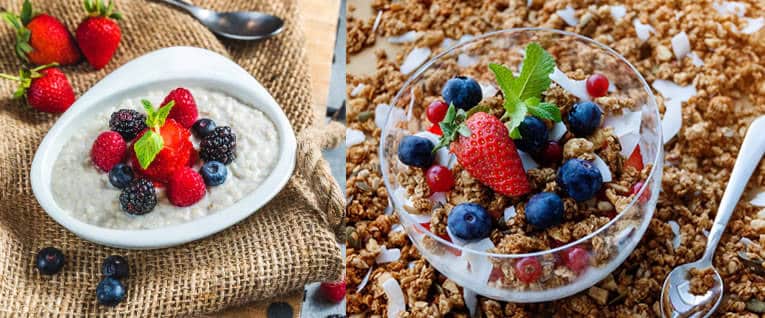 Most people assume granola is a #health food, but unfortunately it fails to deliver. With about 460 to 560 calories per cup, granola is usually sweetened with sugar or honey and also comes with nuts and dried fruit, which significantly spike the calorie total.
Nearly all hot cereals — with the exception of farina and grits — are whole grains. One cup of farina has about 130 calories, without added sugar.
Oatmeal, the clear winner (even though it can run higher in calories) contains protein, iron, magnesium, zinc, manganese, thiamin and fiber. Plus it may help lower blood cholesterol and reduce heart disease risk. One cup cooked oatmeal has about 150 calories, and instant oatmeal packets have about 100 calories each.
FIT TIP: Brown sugar, butter, honey and/or whole milk all add calories. Stick to fresh fruit, cinnamon and nutmeg.
SAUSAGE vs. BACON vs. HAM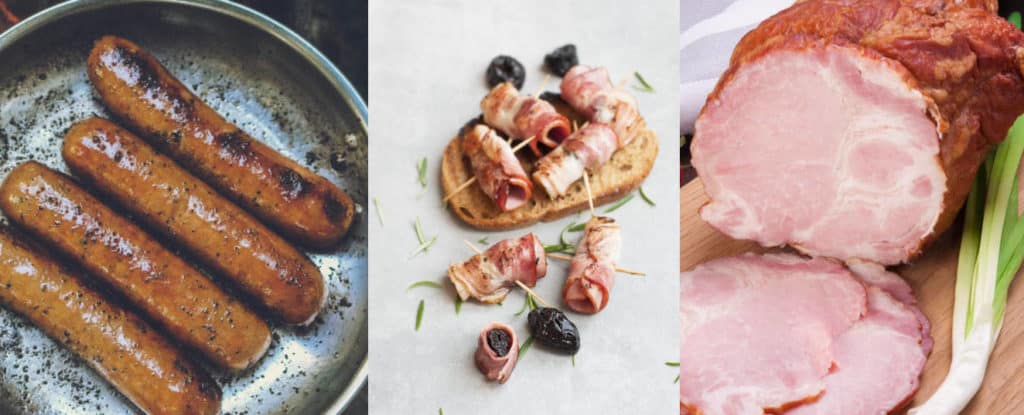 Ham is the winner at only 25 to 30 calories per 1-ounce slice. In addition to being relatively low in calories, it's also low in saturated fat — the unhealthy fat that's linked to heart disease. Sausage (90-125 calories and 3 grams saturated fat per link) and bacon (70 or more calories and 2 grams saturated fat per strip) are not such good choices. Sausage might just be the lesser evil, because you probably won't eat more than two links. Sausage patties can be even worse at almost 150 calories per patty.
FIT TIP: Try turkey bacon, which has half the calories (35) and saturated fat or Canadian bacon, which has 65 to 75 calories for 2 ounces. There are also some great meatless sausages (e.g., Morningstar Farms Breakfast Links) at only 40 calories each that are very low in saturated fat. Turkey sausage links are also better at 67 calories each.
WAFFLES vs. PANCAKES vs. FRENCH TOAST



Plain waffles and pancakes are not bad if you just have one or two — and are careful when applying the "extras." A 6-inch homemade pancake has about 175 calories, whereas a waffle can have 220. At a restaurant, pancakes are usually larger and served in stacks. A short stack at IHOP with sugar-free syrup and margarine is a bit less than 600 calories, and a single pancake at Bob Evans has 260 calories.
A 6-ounce waffle at Bob Evans "costs" 340 calories, while Denny's Belgian waffle platter will run you more than 600 calories — before adding syrup, butter or fruit. French toast, though, is typically the least healthy choice. Denny's French toast platter has more than 1,200 calories.
To make matters worse: Butter, syrup, whipped cream, sugary fruit mixes, chocolate sauces and sugar add hundreds of empty calories and turn these breakfast options into desserts.
FIT TIP: At home try making French toast or pancakes with egg whites and whole-grain flour. Also, add fresh fruit directly into the batter — each pancake will have fewer calories and more nutrients. Opt for light syrup and use a spoon to measure 2 tablespoons. Aunt Jemima Lite Syrup has 100 calories for 4 tablespoons versus 210 for the regular version.
Skip the butter which adds 100 calories per tablespoon. Also, don't confuse fruity syrup with fruit; they're not the same thing. Try a low-sugar or sugar-free jelly, which has about 10-25 calories per tablespoon (e.g., Smucker's Sugar Free, 10 calories).
MUFFINS vs. SCONES vs. CROISSANTS



Croissants are packed with butter, and scones and muffins are typically large individually-baked pieces of cake. A plain croissant is really your best bet, ranging from 240 to 350 calories. As for muffins and scones, they start in the 400-calorie range. A Panera Cinnamon Chip Scone has 570 calories, and a Dunkin' Donuts Honey Bran Raisin Muffin has 480.
FIT TIP: Split the muffin with another person. Reduced-fat or fat-free muffins can be lower in calories, but they are not diet foods.
BAGEL vs. TOAST vs. ENGLISH MUFFINS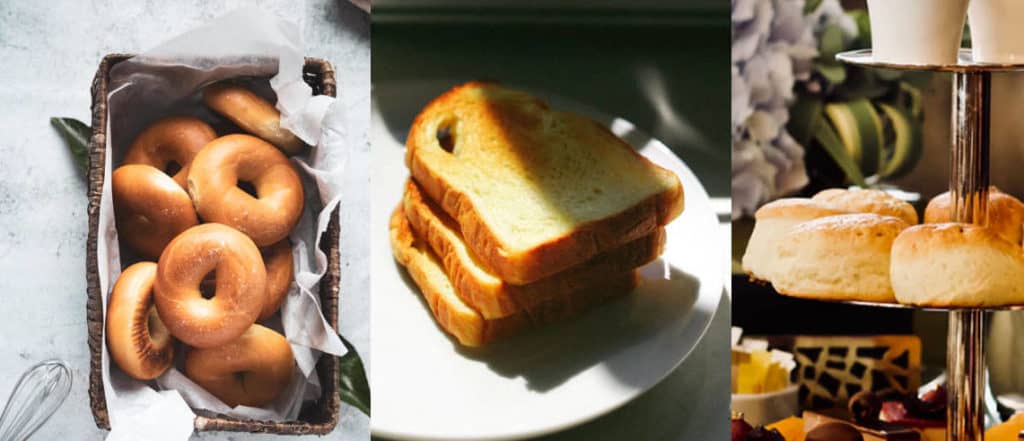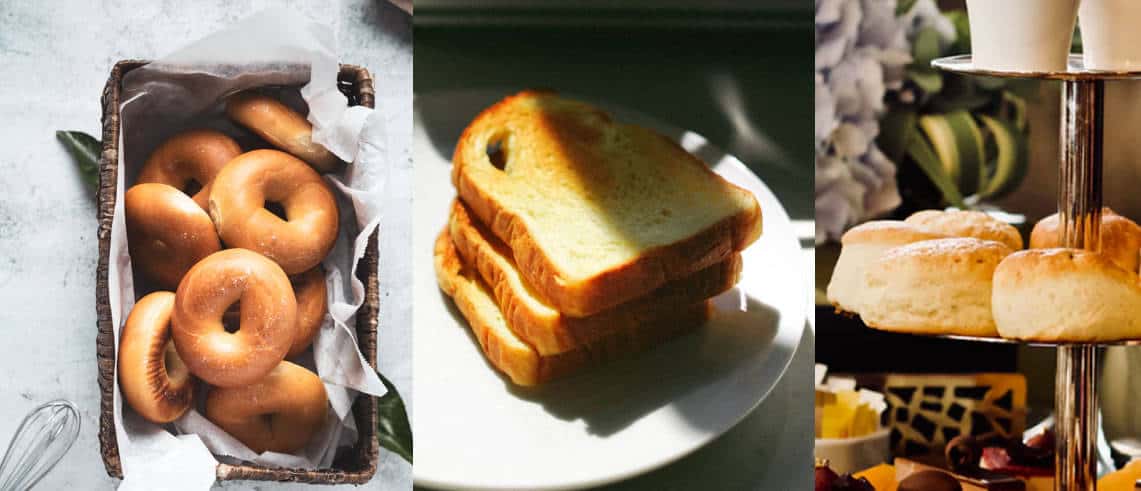 Bagels are the worst choice — they're oversized and very dense, plus they keep lousy company (like cream cheese). For a plain bagel with nothing on it, you're looking at about 300 to 450 calories (e.g., Dunkin' Donuts multigrain bagel, 380 calories; Dunkin' Donuts plain bagel, 320; Einstein Bros plain bagel, 320 calories). Store-bought bagels such as Lender's are not a bad deal at around 130 to 250 calories apiece.
Your best bet however, is an English muffin (120 calories). Toast can also be calorie-controlled, but be wary about all the options out there. Your average piece of white, multigrain or wheat bread has 45 to 80 calories, and the average whole-grain slice has 60 to 110 calories. Check the ingredient list — if the first item isn't "wheat" or "whole grains," you could be eating white bread darkened by caramel coloring.
FIT TIP: Go for a whole-wheat English muffin (120 calories) or a light multigrain English muffin (only 100 calories). Use a margarine spray if you want some buttery flavor without the calories of actual butter. If you prefer toast, stick to just two slices, and look for a sugar-free, whole-wheat bread. Also watch out for toppings or smears: One pat of butter has 25 to 30 calories; 2 tablespoons of cream cheese have 90 to 100 calories.
Last Updated on September 28, 2021