With 142 million instagram followers and an estimated net worth of $350 million, Kim Kardashian is one of the most influential and recognizable media personalities today. She began gaining media attention in 2007, the year when Keeping Up with the Kardashians first aired and when her infamous tape was leaked. Since then, she has launched several businesses and has appeared on countless magazine covers and TV shows. 
She maintains her famous figure with a strict diet and exercise regime.
Weight Guestimate: 116 pounds 
Height Guestimate: 5"2
BMI: 21.2 (Normal) 
Favorite Health Food: Chinese Chicken Salad
Favorite Junk Food: Fast food, especially if it's from McDonald's
Personal Trainer: Melissa Alcantara
Diet Secret: Atkins Diet 
Famous Diet or Food Tweet: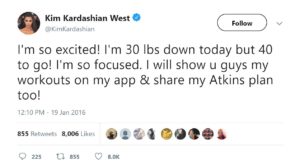 Last photo eating: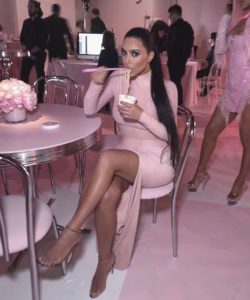 Kim's Diet 
After giving birth to her second child, Saint, Kim wanted her pre-baby body back. She lost 60 pounds in six months. Her secret? The Atkins Diet. 
The Atkins diet was developed in the 1960s by cardiologist Robert C. Atkins. It involves slashing your carbohydrate (carbs) and sugar intake and increasing your consumption of fat- and protein-heavy foods. 
The science behind the Atkins diet is simple. Our bodies use two different sources for energy: carbs and fat. Our bodies break down carbs by converting them into sugar, which we then use for fuel. However, if you decrease your consumption of carbs, your body runs out of sugar and it begins using both dietary and stored fat for energy. With its emphasis on fat-burning, the Atkins Diet is a popular choice for weight loss. 
According to Elle magazine, Kim documented her weight loss journey on Snapchat, sharing images of her meals with followers. Although she was a paid brand ambassador for Atkins at the time, she has stated that she has successfully lost weight on the diet several times in the past, including when she was in college and following her previous pregnancy. 
How She Actually Eats 
On the Atkins diet, you can customize the number of net carbs you eat per day (popular choices are 20 grams, 40 grams, or 100 grams). Kim chose to follow the "Atkins 40" regime, which is recommended for those who are pregnant or breastfeeding. The foundation foods allowed on Atkins 40 diet include:
Protein-heavy

foods (such as meat, poultry, fish and eggs)

Healthy

fats

(such as olive oil, avocados, dairy and nuts)

Low-carb vegetables (

such as

asparagus, broccoli, celery, cucumber, green beans and peppers)
According to Harper's Bazaar, Kim cleared all junk food – including guilty pleasures such as vanilla wafers, graham crackers and rice crispy treats – from her pantry.
As she approached her weight-loss goal, Kim began increasing her carb portion sizes. And while she claims to eat clean the majority of the time, she does indulge on occasion: "Fast food is [definitely] one of my guilty pleasures," she told People magazine. "I go very rarely, but OMG I love it so much when I decide to indulge."
Sample Menu 
Breakfast: Bacon, Avocado and Jack Cheese Omelets with Fresh Salsa
Lunch: Turkey Burger with Chipotle Aioli, Tomato and Pickled Onions over Greens
Dinner: Baked Salmon with Bok Choy and Red Bell Pepper Purée
Find more Atkins-approved recipes here. 
From Atkins to Plant-Based
After achieving her goal weight, Kim no longer follows a strict Atkins diet. She recently stated on her instagram that she is now including more plant-based meals into her diet, and has been sharing the drool-worthy photos of her meals on her instagram stories. She has also stated on her instagram that "[she is] eating all plant-based when [she is] home."
Fitness 
It's not surprising that Kim follows a rigorous exercise regime alongside her healthy diet. She reportedly works out for an hour and a half six days a week. Her trainer, Mel Alcantara, has told Harper's Bazaar that Kim is "super responsible, she never cancels—she's the best client and athlete you could have."
Alcantara has also said that 85 percent of Kim's workout is dedicated to weight training, and the other 15 percent is dedicated to cardio.
What We Can Learn
Though Kim has her own personal trainer, nutritionist, and chef, the diet in and of itself is not unattainable for the average person. Atkins.com is a free resource, though you'll have to pay for special products such as meal kits, bars, shakes, and treats. Kim's journey also reminds us that our dietary needs can change over time. Don't be afraid to listen to your body. It's okay to try a new diet plan once you think you've reaped the benefits of the last one you tried!
While it would take vigorous training to get a body like Kim's, you can incorporate weight training into your own exercise plan two or three times per week to get leaner and stronger. 
From Around the Web