Some foods, like the doughnut burger (basically a Krispy Kreme doughnut sliced in half and used as a bun to hold a burger, a pile of cheddar cheese and two slices of bacon) that's served at one minor league baseball team's concession stand, ought to be avoided at all cost if you're trying to eat healthfully.
That one ought to be a no-brainer, but some of the other better — or worse — snacks may be less obvious, so here's the lowdown on what you need to know:
Cracker Jack vs. Cotton Candy


Cotton candy is just sugar that's been heated, colored and spun into threads with added air. Cotton candy on a stick (about 1 ounce) has 105 calories, but when bagged (2 ounces) it has double that number: 210. Cracker Jack is basically candy-coated popcorn with some peanuts scattered throughout.
A stadium-size box has 3.5 ounces and 420 calories, so the cotton candy is clearly a better deal. If you must buy Cracker Jack, you may be happy to know that the box at least has 7 grams of protein and 3.5 grams of fiber.
Hamburger vs. Chicken Sandwich



A 6-ounce hamburger with a bun has about 490 calories without even counting cheese or other toppings. A 6-ounce grilled chicken sandwich has only 280 calories — a much better deal.
Another alternative, and an even healthier choice, is the 4-ounce turkey burger offered at many of the stadiums serviced by Aramark Sports & Entertainment. At only 147 calories, it's a great bargain. At some stadiums, Aramark also offers salads with a choice of light dressings, including light creamy Italian, country French, ranch and fat-free honey Dijon.
Chicken Tenders vs. Wrap Sandwich


A typical wrap sandwich (6 ounces) has 345 calories and is usually the smarter choice, depending on the ingredients. Six ounces of chicken tenders, on the other hand, have 446 calories, not even including the barbecue dipping sauce, which can have as much as 30 calories per tablespoon.
Hot Dog vs. Pizza vs. Sausage and Peppers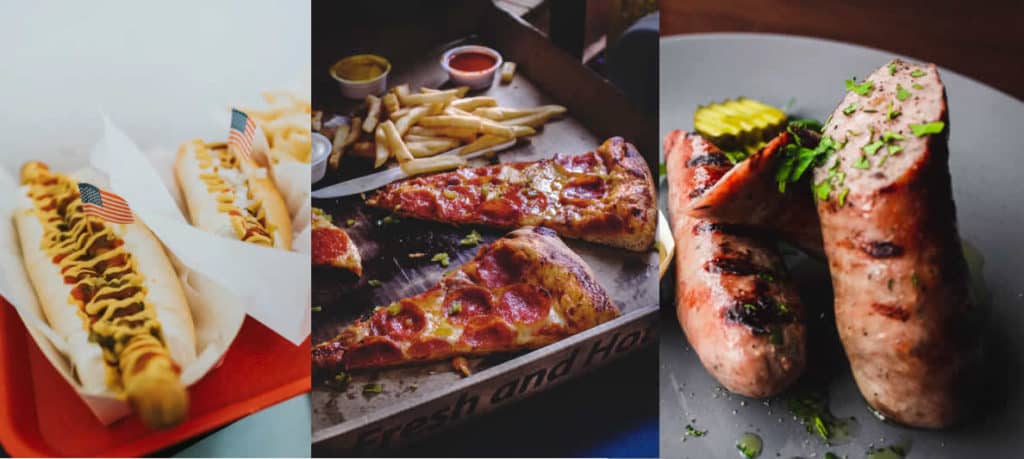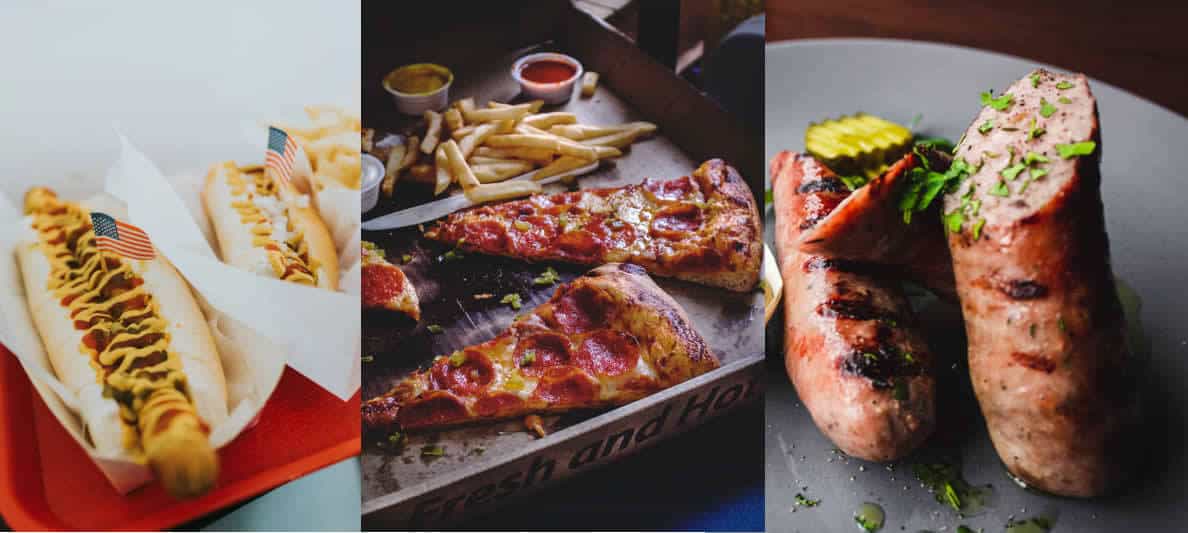 Most sold-out stadiums sell as many as 16,000 hot dogs a day. A regular hot dog with mustard is your best bet, totaling about 290 calories: 180 for the 2-ounce dog, 110 for the bun, and virtually no calories for regular yellow mustard. Sauerkraut adds another 5-10 calories (2 tablespoons), ketchup adds 30 (2 tablespoons) and relish, another 40 (2 tablespoons).
Also, many stadiums serve foot-long hotdogs, which can double the calories in the frankfurter and bun, bringing the grand total to 580 without any toppings.
Pizza at the stadium is a bit larger than a typical slice, about one-sixth of a 16-inch pie (rather than one-eighth), which comes to 435 calories per slice. And the sausage-and-pepper sandwich is about the same — 430 calories for 5 ounces, including the bun.
Super Nachos With Cheese vs. Fries vs. Corn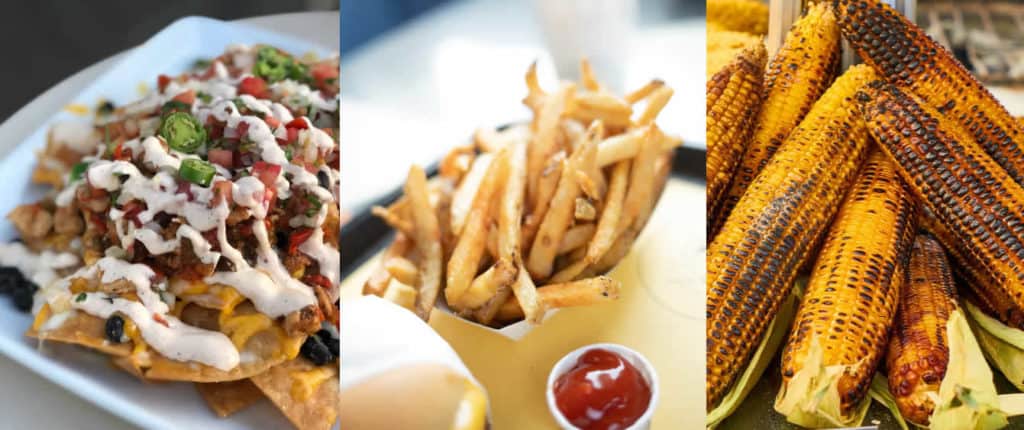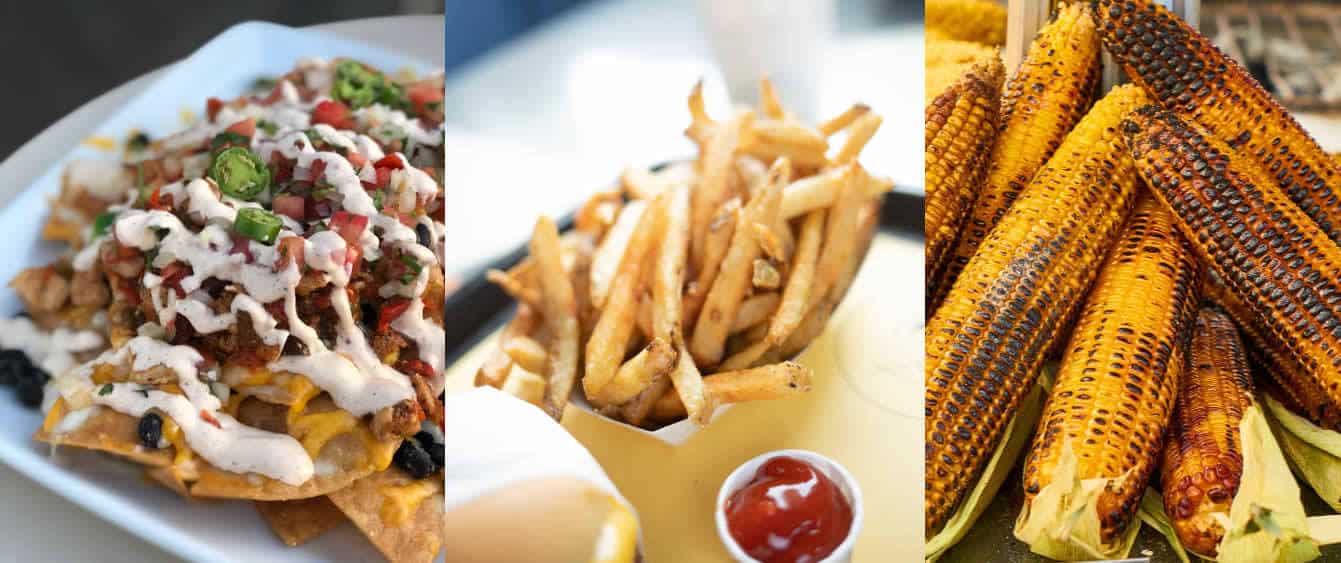 A 12-ounce serving of super nachos with cheese (40 chips, 4 ounces of cheese) has more than 1,500 calories — wow! You're better off with a 6-ounce serving of french fries at about 500 calories.
Corn on the cob, however, is your best option — 80 calories for the corn and about 100 calories for the butter topping. You could even have two (360 calories) and still save 140 calories.
Peanuts in the Shell vs. Popcorn vs. Soft Pretzel vs. Fruit Cup


Nothing says a day at the game better than a bag of peanuts. Stadiums sell as many as 6,000 bags on game days, depending on attendance. The only problem is that an 8-ounce bag has 840 calories, and a 12-ounce bag has 1,260. The upside is that peanuts are high in magnesium, vitamin E, niacin, folate and monounsaturated (heart-healthy) fats.
The popcorn comes in a huge tub, often heaping with more than 120 ounces, which have roughly 1,500 calories. Your best deal is a plain, soft pretzel (5.5 ounces) at about 400 calories — but stay away from those huge pretzels (7-8 ounces), which have about 700 calories. However, your best bet, and definitely the healthiest choice, is a 6-ounce fruit cup — only 80 calories each.
Snow Cone vs. Draft Beer vs. Soda



Even though snow cones use 1-2 ounces of flavored syrup (at almost 60 calories an ounce), they aren't too bad compared with other game-time snacks: a 12-ounce snow cone has as many as 120 calories.
Beer is not that bad, either, but the draft beer served at the stadium comes in 20-ounce cups, which means about 240 calories. Get a light draft if you can, and you'll save 60 calories for a 20-ounce serving.
Soda is definitely not a bargain at about 230 calories for 20 ounces.
Healthier Options to Eat at the Stadium
Previously, health-conscious baseball fans either had to bring snacks with them or satisfy themselves with basic ballpark fare.
Today, many stadium food-service providers, such as Aramark, offer healthier options. For instance, at Atlanta's Turner Field, you can buy freshly made salads; at Anaheim's Angel Stadium there's corn on the cob; at Baltimore's Oriole Park at Camden Yards, you can find frozen yogurt and fruit smoothies; and at Boston's Fenway Park, enjoy a fresh fruit salad.
There are even veggie hot dogs and burgers at Oakland's McAfee Coliseum and baked potatoes at Pittsburgh's PNC Park at North Shore. (Source: www.ballparkfoods.com)
Nutrition Tips:
Eat before you leave home so that you're not starving when you see the vendors selling enticing treats.
It's OK to purchase some food, but make sure you also bring along healthy snacks like oranges, apples, energy bars, 100-calorie snack packs, etc.
Share the snacks — which shares the calories.
Be realistic about what you buy — don't overbuy just to have extra.
Watch out for unconscious eating. When you're focused on the game, you can consume massive amounts of calories without paying any attention. Try not to eat directly from the bag — ask the concessionaire for an extra container or plate and split things up.
Last Updated on September 28, 2021