Summertime is just around the corner – and sweet #corn can be a wonderful treat and accent to any barbecue. And guess what – it does have nutritional value. Take a look.
Value
It's a whole grain, tastes great and has plenty of nutrients. Learn to enjoy the natural flavor of fresh corn without adding less healthy options like salt and butter.
Nutrients
One medium ear contains about 2.8 grams of fiber and nearly 3.5 grams of protein. Corn is also a good source of vitamin C (more than 10 percent of recommended daily values). Additionally, it has thiamin (14.8 percent of recommended daily values), which helps to produce energy for the heart, muscles and nervous system; riboflavin; niacin (8.3 percent of recommended daily values), which helps with normal functioning of the nerves, skin and digestive system; pantothenic acid (9 percent of recommended daily values), which helps the body convert #food to energy; magnesium (8 percent of DV); and phosphorus (11 percent of DV).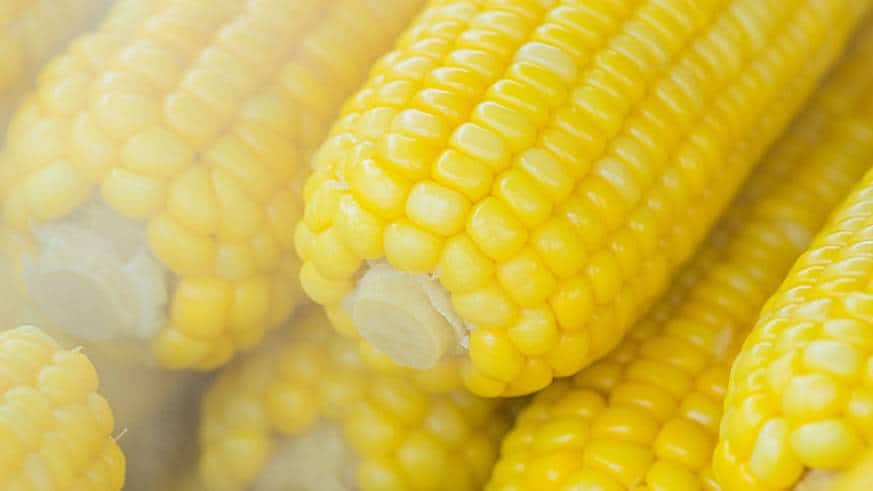 Finally, corn is rich in folic acid, and, "Folate-rich diets have been associated with decreased risk of cardiovascular disease by working in conjunction with vitamin B6 to reduce homocysteine, an amino acid that at high levels is a risk factor for artery blockage," says Jo Ann S. Carson, a professor of #nutrition at the University of Texas Southwestern Medical Center in Dallas. Additionally, folic acid works along with vitamin B12 and vitamin C to help the body use protein, and it is involved in the production of red blood cells and DNA.
Folic acid is also involved in normal tissue growth, which is why getting enough folic acid before and during pregnancy helps prevent certain birth defects, says Ruth Lowenberg, M.S., R.D., a spokesperson for the Fresh Supersweet Corn Council.
Health Perks of Corns
With a moderate glycemic index of 56 (compared with 100 for white bread), corn provides us with carbohydrates for energy without excessively raising the sugar in our blood, says Carson. Also, the lutein and zeaxanthin it contains are phytochemicals thought to be helpful in reducing the development of macular degeneration in the eye.
According to researchers at Cornell University, sweet corn cooked at high temperatures releases a phenolic compound called ferulic acid, which provides health benefits such as battling cancer.
Nutrition Stats of Corns
1 medium ear, (6 3/4″ to 7 1/2″ long, 103g). Calories 111, total fat 1.32g, total carbs 25.86g, total fiber 2.8g, total protein 3.421g.
How to Buy Corn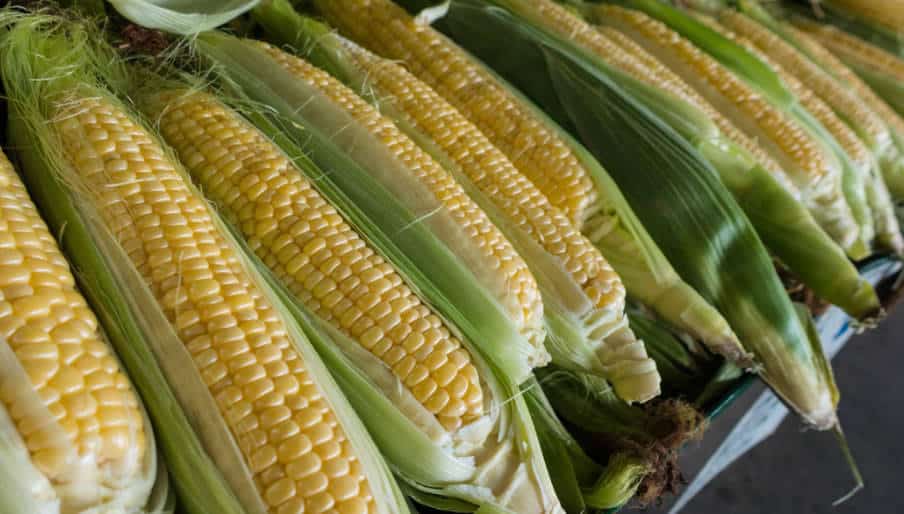 Chef and food expert Aliza Green, author of Field Guide to Produce (Quirk Books, 2004), advises buying corn very soon after it's picked, because the sugars in corn convert so quickly to starch. Look for a market that buys local corn in season with high volume and quick turnover. You should "look for a bright, green and snugly fitting husk with pale to deep gold silks that are dry, and not soggy or dark. Pull back enough of the husk to expose the kernels.
You should see full rows of pearly rounded teeth. The rows should be evenly spaced, and the kernels should be plump and milky all the way to the tip of the ear. Don't be scared off if you see a corn worm at the top of the ear. This is more common in organic corn, especially toward the end of the season. Just cut off the tip and enjoy. It has probably chosen the sweetest ear for you."
Also, "When buying tray-pack corn, look for plump, rounded kernels without shriveling. Pre-husked tray-pack corn may be tough, and it's difficult to gauge quality inside the package. Avoid corn with flattened, tightly packed kernels; the corn will be starchy because it's overgrown," she adds.
Color is a matter of choice, although white corn tends to be more tender. Supersweet corn varieties (often sold in tray packs) will be sugary but with less corn flavor than old-fashioned varieties.
How to Store Corns
"Store corn in its husk for up to four days, though it will be at its sweetest closest to when it's been picked. Store husked ears in plastic for one to two days in the refrigerator," says Green.
Corn Recipes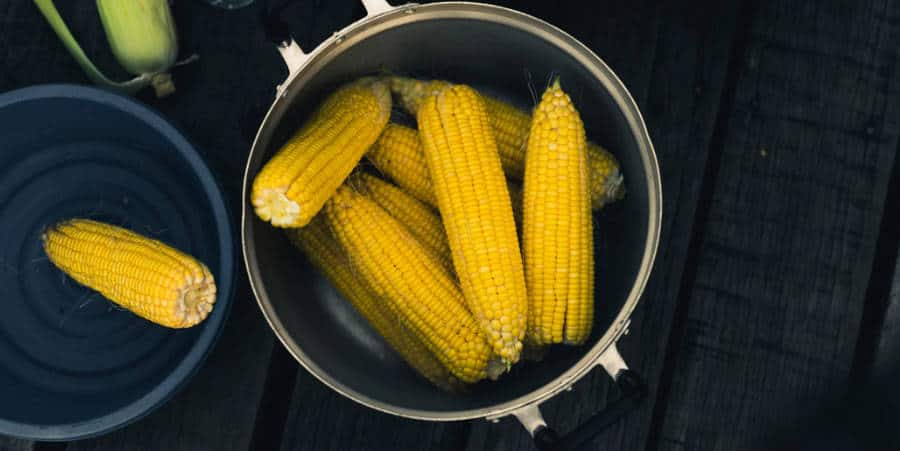 Sweet Corn and Tomato Salad with Fresh Cilantro
Makes 8 to 10 servings
Ingredients:
10 ears fresh corn, husked (Fresh corn from a farmer's market or a grower's farm stand will taste the sweetest)
2 pounds plum tomatoes, cut into 1/2-inch cubes
3/4 cup finely chopped red onion
1/2 cup chopped fresh cilantro
1/4 cup extra-virgin olive oil
1 tablespoon red wine vinegar
Method:
Cook corn in large pot with boiling salted water until just tender, about 5 minutes. Drain; cool to room temperature. Cut corn kernels from cobs. Transfer corn to large bowl. Add remaining ingredients; toss to blend. Season salad to taste with salt and pepper. (Can be made 2 hours ahead. Let stand at room temperature, tossing occasionally.)
Source: Epicurious.com
---
Roasted Supersweet Corn Salsa
Makes 5 cups
Ingredients:
4 ears husked fresh supersweet corn
2 tablespoons olive oil, divided
1 can (16 ounces) black beans, drained and rinsed
1 cup chopped sweet red bell pepper
2 tablespoons chopped fresh cilantro
3 tablespoons fresh lemon juice
1/2 to 1 teaspoon hot pepper sauce
1/2 teaspoon salt
Method:
Preheat oven to 500 degrees. Place ears in a roasting pan; brush with 1 tablespoon of the oil. Roast until corn is tender and some kernels begin to turn golden brown, 10 to 12 minutes, turning once; cool. With a sharp knife, cut kernels from ears (makes about 2 cups). In a large bowl, combine corn kernels, black beans, bell pepper, cilantro, lemon juice, hot pepper sauce, salt and the remaining 1 tablespoon oil. Serve chilled or at room temperature with grilled meat or fish, if desired.
Source: Fresh Supersweet Corn Council
Last Updated on September 28, 2021